Teeth Whitening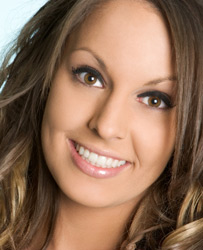 Teeth absorb stains from tea, coffee, and tobacco. Even some foods like blueberries and soy sauce can cause your teeth to yellow. Dr. Murray knows how important a bright, vibrant smile is to your self-confidence, so he offers professional teeth whitening. You can choose from in-office Zoom! Whitening or take-home teeth whitening.
Zoom! Whitening
Zoom! Whitening is widely recognized as the leading professional teeth whitening system. It combines a powerful whitening solution with a no-heat activation lamp for exceptional results. Most patients find their smiles shine 8 to 10 shades brighter after a Zoom! Whitening treatment. Because of the high-fluoride uptake, tooth sensitivity is kept to a minimum.
Take-Home Teeth Whitening
Dr. Murray may recommend take-home teeth whitening, depending on the kinds of stains you have and your tooth structure. He'll create take-home trays that are molded base on the contours of your mouth. You'll fill the trays with our professional teeth whitening solution and wear them daily as directed. You may notice immediate results, but for maximum brightness, you should continue whitening for about two weeks. Keep the trays to touch-up your smile in the future.
Call today to schedule your appointment with Dr. Murray. Families in the Portsmouth, South Shore, Wheelersburg, Lucasville, and Otway areas have trusted us with their smiles since 1988.