Porcelain Veneers and DURAthin Veneers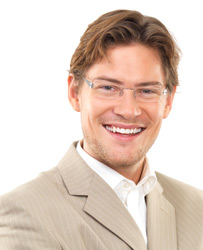 Does you smile suffer from stained, chipped, worn, or widely spaced teeth? Do you wonder how celebrities, friends, and coworkers all have seem to have perfectly shaped, sparkling white smiles? I'm going to let you in on a little secret. Millions of Americans have turned to porcelain veneers to improve their smiles and send their self-confidence soaring. As a skilled cosmetic dentist, Dr. Murray expertly crafts porcelain veneers and DURAthin veneers that look natural and deliver maximum satisfaction.
Cosmetic Dentistry 101
In the past, if you had tetracycline-stained teeth or teeth worn down due to excessive grinding, your only options involved considerable tooth reduction. Advances in dental materials and techniques have given us modern options. Porcelain veneers are thin shells of high-quality porcelain, built layer upon layer to closely mimic the translucence of natural tooth enamel. With porcelain veneers, Dr. Murray can close gaps, lengthen short teeth, brighten discolored teeth, and make all of your smile dreams a reality.
Porcelain Veneers Vs. DURAthin Veneers
DURAthin refers to a brand of porcelain veneers designed with the intention of keeping your natural smile intact. In general, patients who are good candidates for DURAthin veneers have small teeth, narrow smiles, or have had teeth extracted for orthodontics. In most cases, we recommend porcelain veneers, which require a small amount of tooth reduction, to provide the best result. Dr. Murray will carefully examine your smile, take photographs and X-rays, and thoroughly explain his recommendations.
The Veneer Process
If you and Dr. Murray decide that porcelain veneers or DURAthins are right for your smile, then we'll take digital photos and impressions of your teeth. Dr. Murray may create a wax-up or digital image that will show you the potential outcome. Next, he will prepare your teeth and place custom-made temporary veneers while your final restorations are hand-made by ceramists in a dental lab. In a second visit, Dr. Murray will make final adjustments and bond the veneers to your front teeth. That's it! In just two visits, you can begin enjoying a smile that you're eager to share with the world.
Call today to schedule your appointment with Dr. Murray. Families in the Portsmouth, South Shore, Wheelersburg, Lucasville, and Otway areas have trusted us with their smiles since 1988.