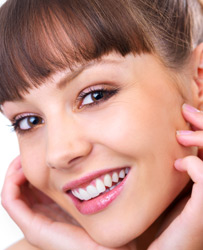 Invisalign Clear Braces
Adults who want to enjoy the benefits of properly aligned teeth don't have to wear metal braces anymore. Dr. Murray offers the latest teeth-straightening technology: Invisalign clear braces. Invisalign is a series of clear, acrylic trays that fit over your teeth like a mouthguard. Patients who wear Invisalign clear braces have the freedom to remove the aligners while eating and brushing and they don't have to compromise their professional image with immature-looking metal braces.
How Invisalign Works
First, Dr. Murray takes models and digital images of your teeth. Then he uses the Invisalign software to map out a plan for gradually straightening your dentition. He sends the custom plan to an Invisalign-certified laboratory where your clear aligners are created. About every two weeks, you'll "graduate" to the next aligner in your series. Dr. Murray will monitor your progress to ensure optimal results.
Who Invisalign is For
Using Invisalign, Dr. Murray can correct a variety of dental problems, including overcrowding, awkward spacing, and bite misalignments. Children are not good candidates for Invisalign, because it takes self-discipline to continue wearing the aligners. Most adults (over the age of 16) are good candidates for treatment with Invisalign clear braces. After a consultation and examination, Dr. Murray will advise you of the appropriate action in your unique case.

Call today to schedule your appointment with Dr. Murray. Families in the Portsmouth, South Shore, Wheelersburg, Lucasville, and Otway areas have trusted us with their smiles since 1988.